This article will talk about how to view Snapchat story online anonymously. You will learn some simple tips on not being noticed when watching someone's Snapchat story in this article. For this tutorial, no application must be installed, or authentication required.
Many articles claim to help you prevent others from knowing that you've seen someone's Snapchat story. You can use the following tools to view another person's Snapchat story on your mobile device.
Note* The Snapchat username can be put into some tools to allow you to view stories anonymously online. Use these tools to view stories anonymously online.
Snapchat is one of the biggest names in social media, and believe it or not, the idea of sharing vanishing stories is based on Snapchat.
It's also possible to see these snaps without logging in to Snapchat or having to download an app.
If you want to know how to use Snapchat stories without an account, here's how you can do it.
View Snapchat story online – The Following Tools Can Help
You might be able to view a personal story of someone who is not your friend by using some apps.
In my opinion, most of these apps are out of reliable sources. They involve fishy websites login, so I cannot recommend them. To avoid being banned from Snapchat.
1. Snapchat Phantom/ Snapchat ++
It is a modded version of the original Snapchat application. Mobile devices such as iOS (iPhone) and Android are compatible.
You can use it to bypass the limits imposed by your original Snapchat account. It is also one of the best-modified apps for Snapchat.
It is one of the most popular tweaks. With the Snapchat Phantom IPA, you can enjoy tons of new features on your non-jailbroken iOS device. Instantly download and save all received media to the device's Camera Roll.
Here's How You Can Use Snapchat Phantom/ Snapchat ++:
Make sure the 'Low power mode' is off in your iPhone's settings by tapping on 'Battery.'
You can then go to 'General' and select 'Background App Refresh.'
Be sure to choose WiFi & cellular data.
Turn on the 'Automatic Download' option in the App Store's settings.
Install it by searching for Snapchat ++ on Google and going to your browser.
After selecting 'Start injection,' the app will download.
You can now access someone's Story anonymously, and he won't know about it.
Snapchat Phantom/ Snapchat ++ Features:
To save all the pictures, videos, and boomerangs to the gallery on your device, download them into your device's internal storage.
This feature lets you mute users whose posts or stories you do not wish to see.
This feature enables users to disable the hold gesture.
Users can save pictures and videos automatically by using the auto-saving feature.
Snapchat's original app no longer requires you to tap on the save button to save a snap.
You can view your Snap stories privately.
2. TheTruthSpy
Using the TruthSpy Viewer App, you can view all monitored data remotely at any time. TheTruthSpy Viewer App (for Android) lets you view all monitored data without having to log in through a web browser (my.thetruthspy.com).
The app allows users to spy on other users without them knowing. You can use the app to view the Story on Android and iPhone devices.
How To Use TheTruthSpy – Best Free Phone Spy App
Spy on any smartphone with TheTruthSpy, a free Android spy app. This app can spy on phone activities using more than 15+ free spy features.
The first thing you need to do is download the tool on your device.
An app like this can harm your device, so you'll see a warning pop-up. Click OK.
In the chrome pop-up, tap on 'Settings' and click 'Allow from this source.
Click 'Install' to install the app.
Allow all the permissions asked by the 'TheTruthSpy' app and enable all settings.
You can also spy on Facebook, Twitter, Instagram, and Snapchat.
Features Of The TruthSpy App:
This app allows users to view their outgoing and incoming Snapchat calls.
It also allows users to view the automatically deleted Snapchat messages.
SpyVoice provides call recording and monitoring tools.
Apps such as Snapchat, WhatsApp, Facebook, Instagram, and others are monitored.
In addition to spying on Snapchat, Facebook, and WhatsApp, TheTruthSpy also enables you to view secrets on Snapchat, Facebook, and WhatsApp.
3. MSpy: The Best Phone Tracker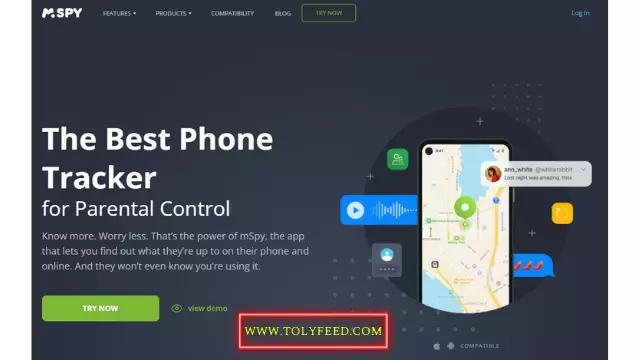 Parental control is made easy with the best phone tracker—no more worries. With mSpy, the app that lets you spy on a person's online activities and phone calls, you can keep tabs on their every move. No one will know you're spying.
Social media platforms like Snapchat, WhatsApp, Facebook, Instagram, and others let you remotely see everything they do on their phone.
MSpy App: How To Use It
Tap on 'Try now' to create an account on the official website.
Complete the payment procedure for any subscription that you find most suitable.
Once the payment is received, an email describing the installation procedure will be sent to you.
Download the app and install it.
Log in to Snapchat with your credentials to track the activities you would like to follow.
Features Of The MSpy App
Tracks incoming, outgoing, and duration of calls and the caller's information.
Compatible with platforms such as Snapchat, Facebook, Instagram, and WhatsApp.
Snapchat users can view secret stories using this app.
Photos and videos are automatically saved into your device after deleting the messages.
Location can be tracked with mSpy.
Timestamps and bookmarks can be followed for the browser history.
4. SpyFone
It is making everything easier for us all thanks to technology. Another top app for secretly viewing other people's Snapchat activity is SpyFone.
With its many features, it can be used across many social applications. Further, this app is compatible with Android and iOS mobile platforms so that everyone can use it.
This app, however, supports different functions; it is not limited to Snapchat spying, but it can monitor a variety of mobile devices as well.
Apps like this one are highly recommended for anyone interested in monitoring the people's social media activities under their charge.
Spyzie is one of the best apps for spying on mobile phones. The app is 100% secure. It can be used to keep an eye on your employees and your children.
It is possible to download the SpyFone app from the App Store or the official website. Users can secretly view another user's Snapchat activities as one of the app's unique features.
SpyFone App: How To Use It
Turn on or allow Unknown Sources in your mobile device's Settings >> Security >> before downloading the app.
Turn off the security setting from unknown sources in Google Settings > Security, then scan your device for security threats.
Download and install the SpyFone app from the official website.
After downloading and installing the app, create a SpyFone account.
Log in with your credentials and open the app.
Features Of The SpyFone App
Compatible with iPhones and Android phones.
Tracks social media activity.
It can also track GPS location and other apps.
You can keep track of your activities through a personal control panel.
5. Spyzie: The World's #1 Spy Phone App
Parents around the world use Spyzie to track their children's cell phones. Both employers and employees use Spyzie to track how well their people are working.
Snapchat spying app Spyzie lets you spy "completely" on someone else's Snapchat activities. This app provides a wide range of spy features for mobile devices.
This app is compatible with Android and iOS mobile platforms so that everyone can use it.
How To Use Spyzie App
Create an account on spyzie.io to access the app.
Install Spyzie on it and verify the target's iCloud credentials if you are using an iPhone.
Enter all your details into your Spyzie dashboard once you have accessed it.
Then you can monitor the Snapchat activities of your children and employees.
Features Of The Spyzie App
It is compatible with both iOS and Android devices.
It provides timestamps for incoming and outgoing calls.
Besides tracking SMS, Spyzie can track location.
A Snapchat spying tool allows you to view Snapchat stories of others, among other features, secretly.
If you are looking for a tool to secretly view the Snapchat story online, choose one in the list and look at its features.
FAQ On View Snapchat Story Online
What is the best way to view someone's Snapchat story online?
Ans: No app allows you to view Snapchat Stories without being a friend. The person's Story may be found in the Discover section if the Story has been published publicly.
Is it possible to view Snapchat stories without an account?
Ans: Snapchat makes it easier for users to share and watch videos outside of the app, even if they don't have an account.
Users will be able to watch each Story by clicking a link on Snapchat.com, which will take them to a video player to watch the Story without having to sign in.
Can you view Snapchat stories on your desktop?
Ans: A new update to the Snapchat desktop site allows you to view snaps outside the app. It's the first time Snapchat has made snaps available off-mobile, although there are still limitations.
Conclusions
This article explains "view Snapchat story online." you can try the above tool to view the Snapchat story available online to view the Snapchat stories.
I hope this article is going to help you a lot. For any queries, you can ping me using the comment box. You will receive a rapid response to your messages from our side.