If you read this article, you can create multiple Snapchat accounts with the same number or app, even if Snapchat won't allow it. You must sign out of another one to use one account since you can create different accounts with different phone numbers.
Other people don't need multiple Snapchat accounts on one phone. Having two Snap accounts for your business and one for personal use is a good idea if you own a business.
A user can only sign in to one Snap account at a time, unlike Instagram, where five different accounts can be logged into simultaneously.
Can I have multiple Snap chat accounts? Here are the best and most reliable ways to get two Snapchat accounts on one device and enjoy the app on two separate individual accounts. Let's look at how it's done.
Can I Have Multiple Snapchat Accounts Android?
You may be able to run multiple accounts of an app on some smartphones without having to download a third-party app.
Here are how you can use two Snapchat accounts on one device. The Snapchat app would use a single device to access multiple accounts.
Find out Whether Your Phone Has A Two-App Or Two-Messenger Feature.
Smartphone manufacturers provide a feature that allows you to run two Snapchat accounts simultaneously on the same device. 
Using multiple Snapchat accounts this way means you won't have to download any third-party applications.
Samsung Device: Settings > Advanced features > Dual Messenger – Tap To install
For OnePlus: Settings > Applications > Parallel Apps
Xiaomi: Settings > Dual Apps
Huawei: Settings > Applications > App Twin
You can find this feature on other OEM devices by opening the Settings app and searching for something like "dual" or "two". OEMs such as Nokia, Motorola, and Google do not have dual app support.
Clone With A Third-Party App (Android)
Clone apps are a simple solution. Then, you can have multiple snap chat app accounts on one app by creating multiple separate spaces on your phone. Check out these cloning apps.
2Accounts – Dual Apps Space & Multiple Accounts/ (iOS + Android)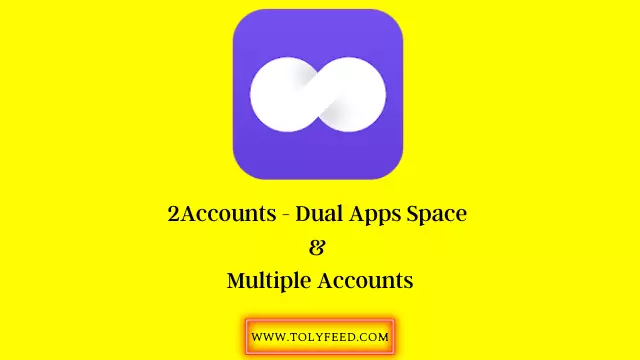 2Accounts is another app you can use to create a new Snapchat account with the help of a clone snap chat app (or any other app you like). 
It is the same process as the previous app if running a parallel Snap chat app on your device. Using another Snapchat account is as simple as installing the app, hitting the add button, choosing Snapchat, and logging in.
Parallel App – Best for Multiple Snapchat Accounts (iOS + Android)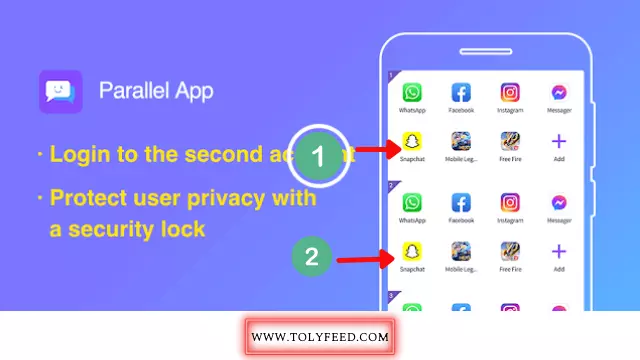 Many users of Parallel App (including Snapchat users) are seeking a way to use multiple accounts simultaneously. There are a few ways to do this:
A parallel App should be installed on your device and opened. To add a profile, tap on Add.
First, Download the Snapchat iPhone using the App Store or play store.
Tap Add Snapchat after finding it in the App Store or play store.
More than one Snapchat in the same account, so we know it's another Snapchat account.
You can open both Snapchat accounts simultaneously.
You will now see a new Snapchat window. You can now start using it.
You can switch between your two Snapchat accounts at any time by tapping the switch app button at the bottom of the screen (or using the gesture) and switching seamlessly between them.
Snapchat++ – Best Photo Chat And Photo Filtering App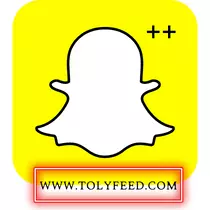 Snapchat++ is a third-party app that acts as a secondary Snapchat app on Your device. In addition to the features already in Snapchat, Snapchat++ has many added extra features that will improve the user experience even further.
Start Snapchat++ by downloading it and logging in as usual. Only this time, the account is different from your standard Snapchat account.
Super Clone – App Cloner for Multiple Accounts
One of the most popular Snapchat cloning apps is Super Clone, which you can easily switch between two Snapchat accounts.
By cloning the app, you enable a parallel space to simultaneously run two copies of the Snapchat app.
Signing in using a different phone number or email address than other app-cloning apps is necessary.
TutuApp – Tweaked Versions Of Snapchat / (iOS + Android)
The TutuApp application is a third-party app store. Snapchat versions are available here. There are multiple Snapchat tweaked apps in this app, which is a significant plus.
It is up to you which one you download. It is possible to install two versions of the application form here and run three Snapchat accounts simultaneously.
Similar to AppValley, Snapchat can be downloaded via the Tutu App. Just follow the same steps, and you'll get several modified Snapchat apps for your iPhone.
How To Set Up A business Snapchat Account
To create a Snapchat business account, you must first have a Snapchat user account. To get started, the first thing you need to do is download the Snapchat app from the Apple App Store or Google Play Store.
To sign up, click "Sign Up" in the app.
Complete your user information.
Verify your email address on Snapchat.
Set up your Snapchat Business account.
You can now create a Snapchat business account once you've created a user account.
Visit Snapchat for Businesses.
Multiple Snapchat accounts one phone. Follow the steps below. Enter your details when prompted. Finally, click "Get Started."
FAQ On Multiple Snapchat Accounts
How to tell if someone has multiple Snapchat accounts?
Ans: On a smartphone, you can only access one Snapchat account at a time. Snapchat users can only access one Snap account at a time, which contrasts with Instagram, where users can log into as many profiles as they like. Yet, if there is a will to try, some tricks are mentioned above.
How to have multiple Snap chat accounts?
Ans: Logging out of your existing Snapchat account is the first step to adding two Snapchat accounts. Tap "Sign up" to create a second Snapchat account. Follow the on-screen instructions to create another account after you have clicked "Sign up.".
How to have multiple Snapchat accounts on iPhone?
Ans: Create two Snapchat accounts on iOS by cloning the app. You can use both accounts simultaneously by opening the app you want to use. The Cloned app will work the same as the original. apps you can use:
Parallel Space
TutuApp
Super Clone
Best Android Phone For Snapchat?
Ans: Today, plenty of great Android phones are perfect for using snap chat apps. Check out these phones:
Apple iPhone 13 Pro
Google Pixel 6 Pro.
Google Pixel 6.
Samsung Galaxy Z Flip 3.
OnePlus Nord 2 5G.
Xiaomi Mi 11X.
Conclusion
This article explains "multiple Snapchat accounts." you can try the above Apps to view multiple Snapchat accounts one phone.
Now you get your answer to your question, like can I have multiple Snapchat accounts? Can I Have Multiple Snapchat Accounts Android? can you make multiple Snapchat accounts? How to tell if someone has multiple Snapchat accounts?
Thanks for reading this article. I hope it helps you a lot. Leave a comment if you have any questions. I'll reply as soon as I can.